Personal
Angela Harris
Becario pre-doctoral
email: angieharris[arroba]correo.ugr.es
Teléfono:
Áreas: Género, identidades disidentes en el discurso literario y fílmico, corporeidad, culturas materiales, culturas visuales, poder en los espacios públicos de producción y exposición artística, decolonialidad, arteterapia, narrativas. contrahegemónicas.
Web personal: http://orcid.org/0000-0002-1763-2501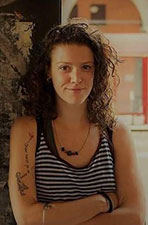 Publicaciones recientes:
"Feminist Ethics of Responsibility and Artherapy" en Revelles Benavente, Beatriz y González Ramos, Ana (eds.). Teaching Gender. Feminist Pedagogy and Responsability in Times of Political Crisis. Londres y NY: Routledge, 2017, pp. 131-45. ISBN: 9781138701236 (bolsillo); Pasta dura: 9781138701229; ebook: 9781315204161.
Video Ensayo: Harris Sánchez, A. and Galindo Salmerón, Z. (2020) "Escape Room". In Aljowaily,H. and Herrera-Pereira, C. (coord.) Days With(in).
https://vimeo.com/channels/dayswithinseries/437081222
"Contesting Power in Public Art Spaces. Liminal P(l)aces, Diverting Methodologies and Observant Participation in Valor y Cambio" (publicado en el número especial Eccentric Methodologies de la revista, Sociología y Tecnociencia ISSN: 1989-8487, enero 2021, pp. 39-55
En prensa "Hegemonies of Power vs Affective Relational Anarchy in Social Inclusion Disciplines: Two Case Studies and a Feminist Toolbox" coescrito junto a Ana María García López (publicado en el Volumen Affective Convergences: Transforming Research Through Feminist Alliances, Ed: Peterland, en prensa y a punto de aparecer en los próximos meses).